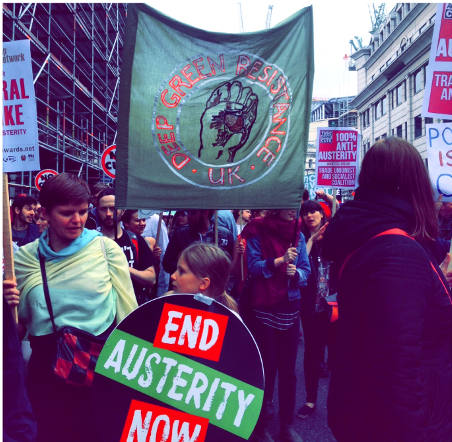 On the morning of 20th June, some members of Deep Green Resistance UK met outside the Bank of England in London to join hundreds of thousands of people on the anti-austerity march to Parliament Square.
We decided to join the march to show opposition to the proposed public spending cuts that would disproportionately affect lower classes, women, and people from ethnic minorities. Government figures show the cut are only necessary because of the hundreds of billions of pounds spent to bailout bankers in 2008, and also could be avoided if international corporations were forced to pay tax.
The day was peaceful and had a carnival-like atmosphere with music, dancing in the streets, elaborate costumes, and people from a range of backgrounds coming together to unite around a common belief.
We held a DGR UK banner and handed out hundreds of leaflets to people who either hadn't heard of us and were curious to know more, or had heard of us on the internet and were happy to see us on the streets. It was the inaugural unfurling of the DGR UK banner, putting us officially on the map. This is only the beginning. . .