by Julian Langer / Deep Green Resistance UK
In Europe, we have conveniently forgotten the devastation this culture has inflicted (and continues to inflict) on the continent. In the USA and Australia, where the ecocide, specicide, and genocide committed by colonial forces are far more recent, people have a harder time pretending to be unaware of the effects. In Europe, we've lost the majority of (and are losing the last of) the primeval forestlands, once the face of this landscape and home to a diverse biotic community stretching across the bioregion. In Europe, we ignore this culture's destruction of indigenous communities and those trying to live in truly sustainable ways.
In Britain, those in positions of authority are intent on decreasing rather than increasing institutional protection of our biotic communities. With so much at stake, we must take on the responsibility for protection ourselves. I describe here four examples which deserve support from people across Britain. These are local to my home in Devon; wherever you live, you can get involved in an important struggle to protect the remaining biotic communities in Britain.
Manning's Pit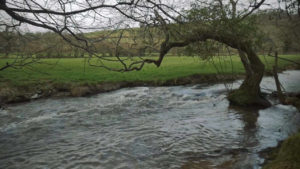 Manning's Pit in North Devon is an area of profound natural beauty. Developers, though acknowledging its high biodiversity, seek to build new human housing against the desires of the near-by community. Devon's dominant natural features are grasses, broken up by hedges to mark differing areas of farmland, woodlands full of bird song and coastal areas whose faces are defined by the sea. As someone who lives here, it is personally saddening to witness increasing development and urbanisation. In a more politically relevant sense though, it is awful as this is the increasing encroachment of this culture on the natural world and the subsequent lose of biodiversity that results in.
It's an area comprised of Devonshire grasslands and patches of woodland; one of the last remaining homes for the bat, hedgehog and other communities of local wildlife left after agriculture and now urbanisation have left their marks. I fear what will be lost if the developers are allowed to build upon this area or others like it. While local people have a petition going and are appealing to the government for protection, should these institutional means fail, it will become necessary to resist this development directly, be that through occupation of the land, through acts of sabotage or whatever will work.
Dartmoor National Park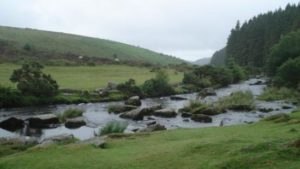 In Britain the national parks represent the last of our natural landscape, before urbanisation, industrialism and other destructive effects of this culture. They are areas of beauty, where what is left of the natural biotic communities able to exist away from this culture. However, with drastic cuts to the institutional apparatus keeping the Dartmoor national park going and a 25% staff reduction threatened by the government, the future of this area is threatened. It is all too likely that Dartmoor will be sold into private hands, who will pay no heed to the habitats and biotic communities in their pursuit of profit. The woodland community that attempt to live on Dartmoor in such a way that takes responsibility for the environment are already under threat and face being removed. They're hunter-gatherers attempting to live a way of life this landscape can support.
Clearly the powers that be are more interested in maintaining the status quo of this culture (austerity measures to support a collapsing neoliberal economy) than they are in the land-base. Dartmoor is home to frogs, toads, snakes, slow worms, lizards, buzzards, cuckcoos, ravens, skylarks, owls, peregrine falcons, song thrushes, salmon, trout, dartmoor ponies, foxes, badgers, rabbits, squirrels, hares, stoats, weasels and deer, as well as a huge array of flora, including endangered plant species. To lose this to further destruction would be to lose one of the last strongholds for the natural biotic-communities that covered the length and breadth of Britain. Like with Manning's Pit, if the institutional measures fail, it is the role of activists to protect this area and areas like it, through both aboveground and underground measures.
Hinkley Point C Nuclear Power Station
The first new UK nuclear power station in a generation may be built at Hinkley Point in Somerset. The energy conglomerate EDF will soon make its final decision whether to build Hinkley Point C power station, and although the project has faced considerable delays amidst backlash from environmental groups including Greenpeace, a decision to proceed looks increasingly probable. Chernobyl and Fukushima gave us glimpses into worst case scenarios, but even without an extreme emergency the dangers around disposal of nuclear waste are reason enough to resist this possibility in the South West's future.
High-level radioactive waste from nuclear power stations is primarily uranium fuel, and its hazardous radiation can take longer than 24,000 years to decay. None of the methods of storage and disposal are perfect, and some are outright dangerous. With EDF poised to finalise the decision to build Hinkley Point C power station, environmentalists and activists in the UK need to defend the land and resist the corporate-hegemony of this energy conglomerate.
Badger "Culls"
Finally, farmers covering up poor farming practices are fuelling an active campaign in specicide towards badger communities across the South West. These farmers, desiring removal of the badger's status as a legally protected animal, are driving a scientifically invalid and barbarically cruel cull done in the name of protecting cattle against TB.
Badgers are an integral part of biodiversity in the region and in seeing their sets in banks and woodlands, you are reminded that, despite everything, there is still life on this island. This life represents the last of a multitude that were part of the community that characterised this land, before the dominance of this culture and human exceptionalism. Hunt Sab resistance groups are opposing this campaign and other acts of cruelty to animals, and need support if this supposedly protected animal is going to survive. The cull zone has been extended to right across the South West UK so resistance is highly needed, from both activists and those not politically active.
Conclusion
So this is the situation in the British countryside. This culture is destroying what is left of the natural world. Immediately, in the area I live in, there are four important grassroots struggles, with many others across this island. Campaigns such as Rights of Nature UK strive for institutional protection of the natural communities with whom we share these islands. These forms of protections are highly valuable, particularly as incremental means of resisting this culture. Unfortunately, the weaknesses of laws such as those banning fox hunting, or those granting badgers status as a protected species, show that institutional measures are by no means enough. Those of us who value the natural world must fight to defend the natural biotic community and to resist this culture's violent onslaught, in all the ways we can.